So, Joe Cada won the World Series of Poker main event at age 21, and Annette Obrestad took down the first WSOP Europe championship at 18. Big deal. These players are old fogies compared to Alexa Fisher, who began playing poker at age 3 (a year, even, before Barbara Enright), and before long had mastered every form of poker dealt at the WSOP.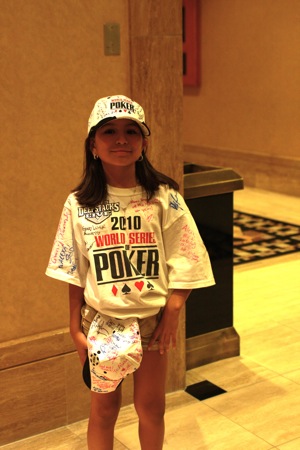 Ask any 6-year-old kindergarten kid where he or she would like to go during summer vacation, and the answer is almost sure to be Disneyland. Alexa's choice was the WSOP.
She got her wish last year, and while she didn't win any tournaments, she sure made her mark there. She was asked to make an announcement during one of the poker Web broadcasts, was profiled in the Las Vegas Tradeshow Lifestyles newspaper, got her tee shirt signed by lots of her women poker player idols, played "rock, paper, scissors" with Annie Duke and won, and later, wearing her autographed shirt and poker cap, made an appearance on a San Antonio morning TV program, Great Day SA, which was looking for kids with talent.
During that show, she was shown several times sitting at a table with cards and chips before being interviewed. She then showed two of the hostesses how to play the game, explaining blinds, checks, betting, raises, and so on, remaining calm and collected throughout. She also demonstrated a mature diplomacy. When asked if her parents played better than her in family games, she replied, "Maybe."
She was less reticent in her Tradeshow story, headlined, "6-Year-Old Future Poker Champion." In that article, which featured a photo of her with Barbara, she said, "I know how to shuffle and deal the cards, raise, check, fold, and bluff. I also know how to play deuce-to-seven lowball, H.O.R.S.E., and badugi. I can now play any poker game with the best poker players in the world!"
(Can you imagine how Phil Hellmuth would carry on if he played this kindergarten kid heads up and lost?)
And she almost certainly set an age record when she played in a live tournament, a $30 buy-in/donation event benefiting Homes for Pets, in Schertz, Texas, in February. She outlasted well over half the field (including her father) and became an instant celebrity, the talk of the tournament, with cameras flashing and people asking to have their pictures taken with her. She reportedly played very professionally with the proper poker etiquette, managed to bluff a few pots, and when she got knocked out, showed correct sportsmanship by shaking everyone's hand.
So, just who is this confident prodigy, and how did she learn the game? Well, Alexa Fisher, now 7, is a straight-A first-grade student at Sippel Elementary in Cibolo, Texas, a small town near San Antonio, where she lives with her parents and younger sister. She showed an interest in counting at the age of 3, and her father, Justin Fisher, not sure of how to teach counting, picked up a deck of cards and showed her that way — with the ace being 1, and so on. Alexa soon joined her father watching poker on TV, noticed that the cards were the same, and enjoyed people "clapping and being happy."
The next step in teaching counting, her father explained, was buying poker chips to show numbers in another form — $1, $5, $500, and so on. "Her math skills went through the roof," he said.
This is further verification of an earlier column of mine called "Poker Belongs in School," in which I argued that having students learn the odds of making a flush or straight would be more instructive than studying useless things like "pi," the mathematical relationship between the circumference and diameter of a circle.
As instruction continued, Justin made her aware of relative values in poker. "It helps her understand that if I push 500 $1 chips into the middle of the table, not to be scared. It's just a single $500 chip."
From there, Justin explained that matching numbers are called "pairs," and to make it fun for her, he used such expressions as "run and flush the toilet" when she made a flush. Most challenging to explain was a straight, although eventually, Alexa would make a king-high straight flush, her highest hand to date. When Alexa's interest in playing the same hold'em game waned, her parents started to play for things like toys and ice cream. "This taught her honesty, as in keeping one's end of the deal," her father pointed out.
Next came plastic playing cards, chips with value on them, and a dealer button. By age 4, she was shuffling and dealing and learning about basic tell signs and bluffing strategy, and by age 5, she knew no-limit hold'em solidly.
From there, Justin introduced her to other games, limit and pot-limit, and by age 6, she knew all of the WSOP games, along with badugi, double-flop hold'em, crazy pineapple, and ace-to-five and triple-
draw lowball.
At school, her father noted, she is close to a third-grade reading level and fifth-grade level in math. Her kindergarten and first-grade teachers know that she plays poker, and her fine-arts teacher even showed the class her Great Day SA TV segment. Most of her friends know that she plays, but not understanding poker's complexities and subtleties, it's just another card game to them, like "go fish."
Alexa's father maintains a close balance for her between poker and school. If she gets ready early enough before the school bus arrives, they'll play a couple of hands of poker. In the evening, there's no poker with school the next day, but she is allowed to watch poker on TV if it's not too late and all homework is done. Alexa even managed to work poker into her schoolwork when she had a class assignment to write about a military soldier she knows or a hero in her life. Not knowing anyone active in the military, she selected poker, finally narrowing down numerous candidates to her hero, Barbara Enright, because she is the only woman to make a final table at the WSOP main event.
For now, Alexa plays only at the house with her parents, while her little sister, Arianna, is allowed to take care of the chips in the pot; they also played family poker while in Vegas. As far as her parents know, she doesn't play poker with her schoolmates. She is allowed to play for money — her cash allowance for doing chores around the house — because it teaches her money management. "How much are you going to risk?" asks her father. "Going to make a rebuy if it allows? What are you going to do with the cash?"
They gave her some money to start with, and now she has a bank account. Her first win from a major cash game was $42, and her first loss was $25, while in Vegas. Her specialty is tournament-style poker, with blinds and antes increasing. She also learns by watching her father play online.
Alexa's ambition is to be a professional poker player, and her father feels that she has what it takes. "She goes in levelheaded, and leaves levelheaded." She has an autograph from Greg Raymer on her hat that reads, "See you in 2024!" That is when she'll be of legal age and have her chance to tie Cada for the "youngest champion" title. "Alexa knows," her father concluded, "that someday, some little girl age 5 or 6 will see her in the hallway at the Rio and will yell out, 'Alexa,' ask for her autograph, and take a picture with her."
Max Shapiro, a lifelong poker player and former newspaper reporter with several writing awards to his credit, has been writing a humor column for Card Player ever since it was launched more than 20 years ago. His early columns were collected in his book, Read 'em and Laugh.